I had my eyes fixed on the watches that adorned the wrists of the stars at the Oscars 2023. As a watch enthusiast, I was thrilled to see celebrities showcase their style by pairing the perfect watch with their outfits yet again. This fashion-forward event was a spectacular visual treat.
The Oscars 2023 perfectly showcased how to style luxury watches with the right outfit. A good watch-and-outfit combination is all about harmony and balance. It's essential to consider the overall aesthetic of your outfit and choose a watch that complements it rather than competes with it. The watch should enhance the outfit, adding an extra layer of sophistication or interest. Ultimately, a good watch-and-outfit combination should feel effortless and confident, showcasing your style and taste.
Michelle Yeoh Complementing her Look with a Custom Sapphire Richard Mille RM 07-02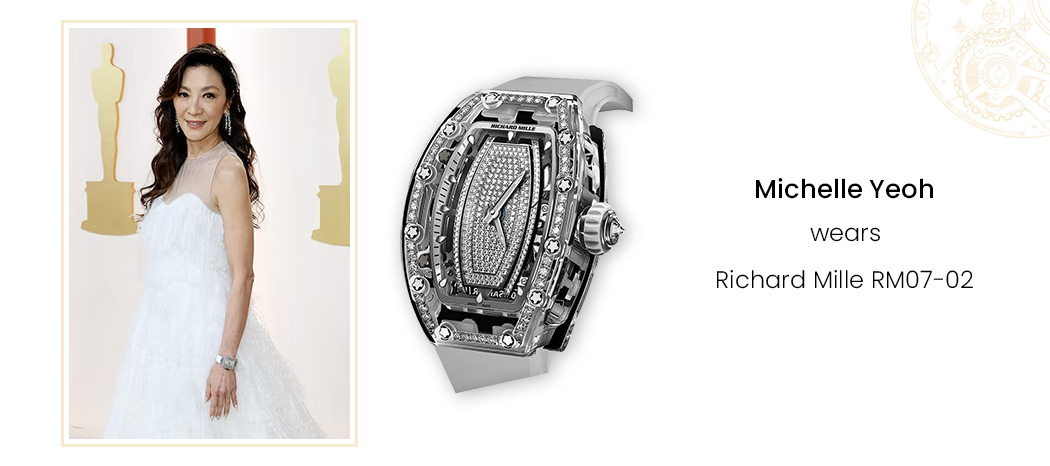 The illustrious Michelle Yeoh, who has justly clinched the coveted title of Best Actress, graced the 95th Oscars with a bespoke sapphire-adorned Richard Mille RM 07-02. The watch boasts a diamond-studded dial encased in a pristine sapphire shield, exuding an aura of opulence and sophistication. Although currently not listed in the Richard Mille catalog, we anticipate its debut as a new model (unless it's a one-of-a-kind masterpiece crafted solely for her).
Marc Consuelos Sporting A Vintage Rolex Daytona Ref 6263 With a Silver Dial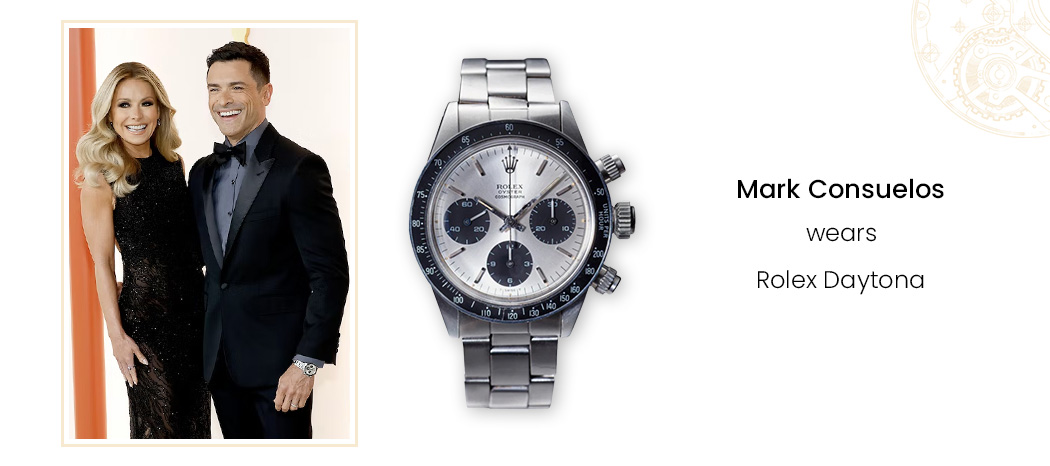 Marc Consuelos made a grand entrance adorned with a resplendent vintage Rolex Daytona (Ref. 6263) timepiece. This opulent watch was crafted in the early 1970s and continued to mesmerize collectors with its timeless allure throughout the 80s. It is widely recognized as a distinguished member of the coveted Daytona collection, reserved exclusively for connoisseurs of the highest echelon in vintage Rolex circles.
Jay Ellis Wearing a Cartier Tank Must With Diamond Bezel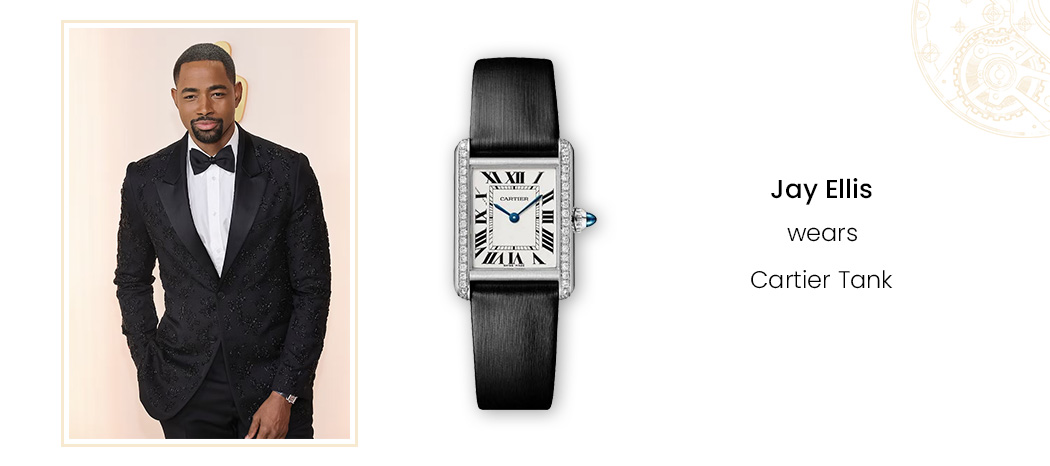 Jay Ellis' fashion acumen was on full display again on the red carpet as he opted for a tasteful fusion of a debossed black tuxedo. The Cartier Tank, a formidable contender in the realm of dress watches, was already a highly discerning choice. Still, Jay elevated his sartorial game by adorning it with a splendid diamond bezel, culminating in an exquisite ensemble.
The Timeless Charisma of Hong Chau's Horological Choice – Panerai Luminor Due 'Luna'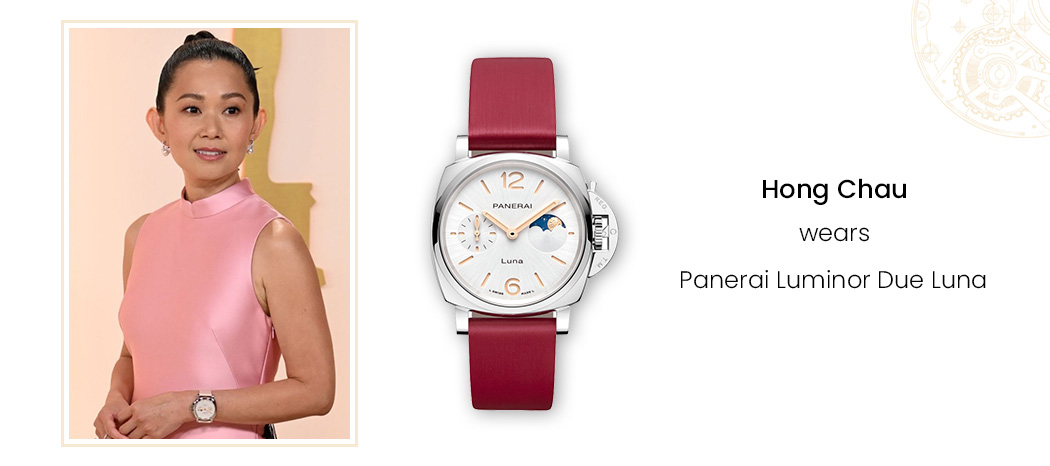 The ethereal Hong Chau radiated resplendent elegance in a mesmerizing pink dress. A supple pink strap perfectly complemented the soft and delicate hue of the dress. Chau spared no expense in choosing the luxurious Panerai Luminor Due 'Luna' timepiece. Distinguished by its opulent Moonphase complication, this watch exuded an air of class and refinement that perfectly elevated her impeccable style.
Barry Keoghan Looking Effortlessly Slick in the Lilac Blazer and an Omega Globemaster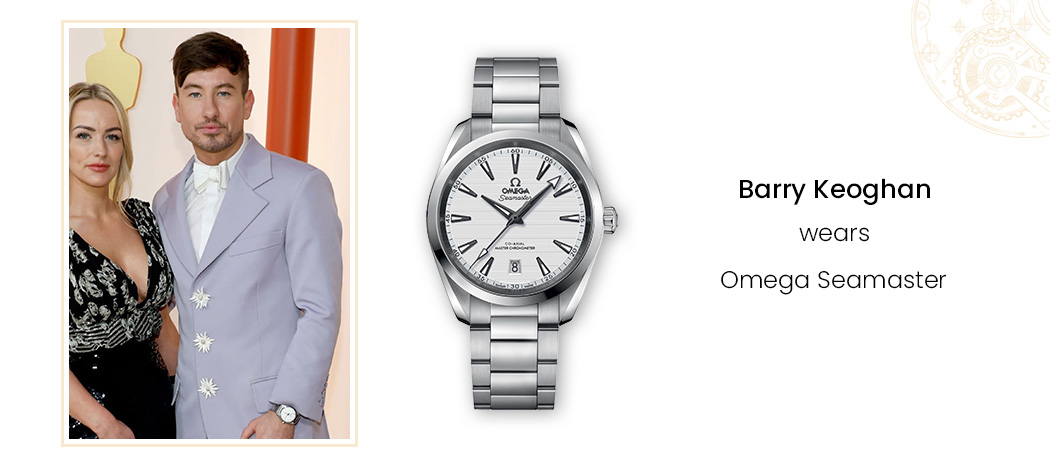 Barry Keoghan, nominated for his exceptional portrayal in The Banshees of Inisherin, opted for an understated yet refined look with a resplendent lilac suit. Complementing his sartorial elegance, the Omega Seamaster Globemaster exuded a sophisticated simplicity that seamlessly slid under his suit cuff.
Ke Huy Quan Opts for a Classic, Timeless Look with Omega Globemaster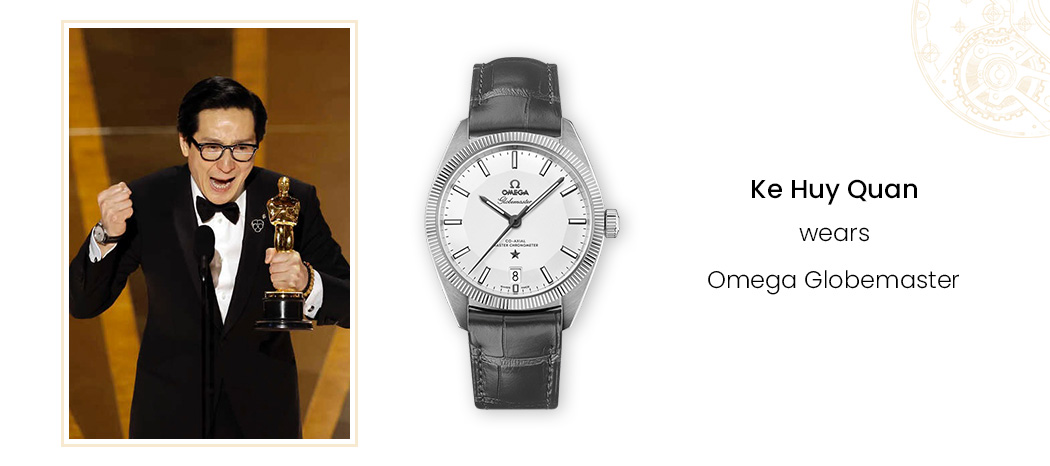 Oscar winner Ke Huy Quan paired his exquisitely tailored tuxedo with none other than the Omega Globemaster Co-Axial Master Chronometer. The timepiece's resplendent silvered dial, encased in a lustrous 39 mm steel frame and luxuriously embraced by a sleek black leather strap, harmoniously complemented Ke Huy Quan's suave and sophisticated demeanor.
The Oscars 2023 was a fashion and watch lover's dream come true as the stars who walked the red carpet were decked out in the most stylish and glamorous ensembles, accessorized with the most elegant timepieces.
Unleash Your Inner Fashionista
Click now to explore the hottest trends and find your own unique look!