As a movie buff, it's impossible not to notice the luxury watches that adorn the wrists of some of our favorite characters. I especially love it when a watch has a subtle part in the plot of the film or when it has a symbolic significance to the character.
Luxury watches have long been a status symbol, worn by the world's elite and admired for their impeccable craftsmanship, timeless design, and association with some of the most iconic figures in history. And when luxury watches make an appearance on the big screen, they become more than just timepieces. Storytelling is a powerful medium of conveying human emotion, and in this blog post, we will celebrate the best watches to ever appear on the big screen.
No Time to Die (2021) – Omega Seamaster Diver 300M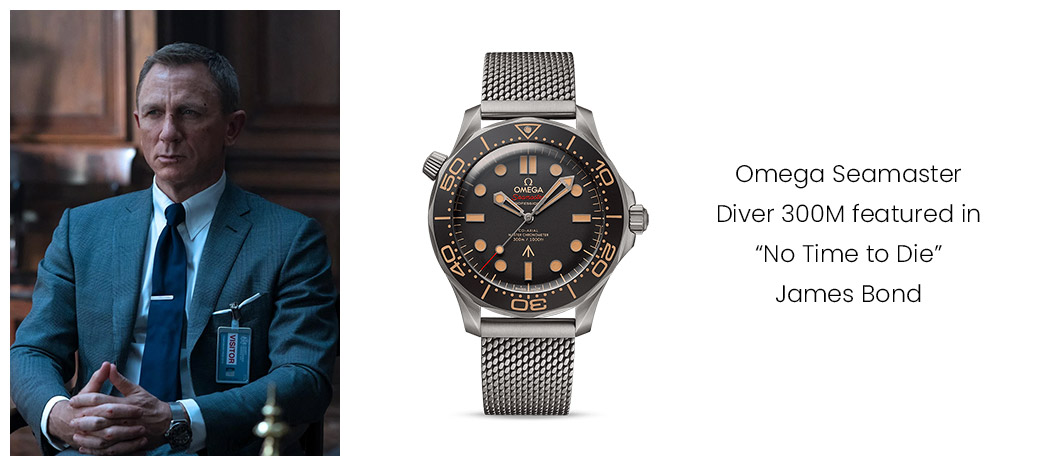 Omega has been a consistent part of the James Bond franchise since 1995, and it returns in style in the latest installment of the series, No Time to Die. The Omega Seamaster Diver 300M is sleek and stylish, with a timeless design that is sure to turn heads. The watch features a 42mm case made of titanium, giving it a rugged durability that is perfect for the man with the license to kill. The black dial features luminous hands and hour markers, making it perfect for a spy, while the unidirectional rotating bezel is made of black ceramic with a platinum diving scale. The watch is waterproof up to 300 meters, and it will accompany you for an adventure over or under sea water.
Le Mans (1971) – TAG Heuer Monaco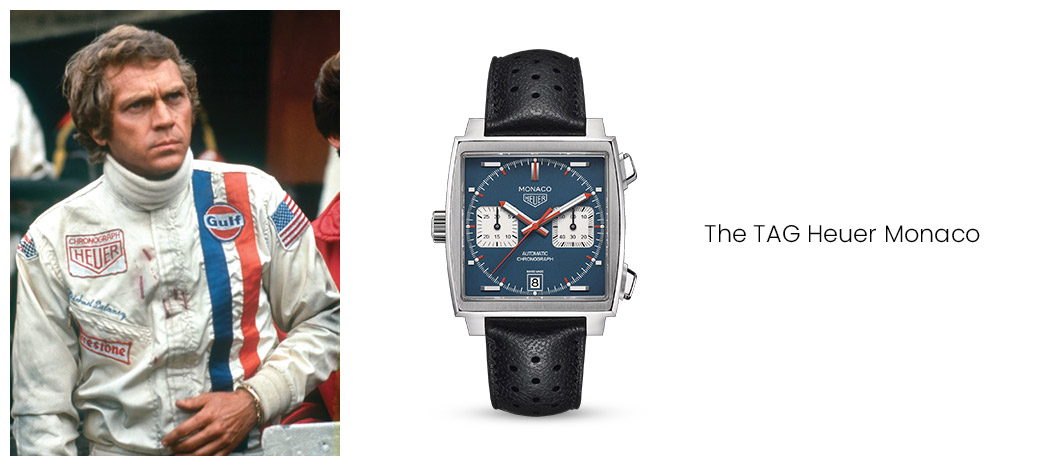 The square-shaped Monaco watches are an iconic line of watches from TAG Heuer. A company closely associated with motorsports, TAG Heuer was the first watchmaker to create dashboard chronographs for race cars. The company gained a reputation among racers quickly for their ability to create precise and reliable watches. The TAG Heuer Monaco features a sporty design – the square dial sets it apart from other watches and the stylish color combination is a subtle call to the world of motorsports. This is a perfect watch for people with an adventurous spirit.
A year after its launch, Jack Heuer brings the Heuer Monaco to the movie set of "Le Mans", where Heuer-
sponsored Swiss driver Jo Siffert was coaching and stunt-driving for Steve McQueen. The actor loves the
watch and wears it in every scene.
The Dark Knight Trilogy (2005 – 2012) – Jaeger-Lecoultre Reverso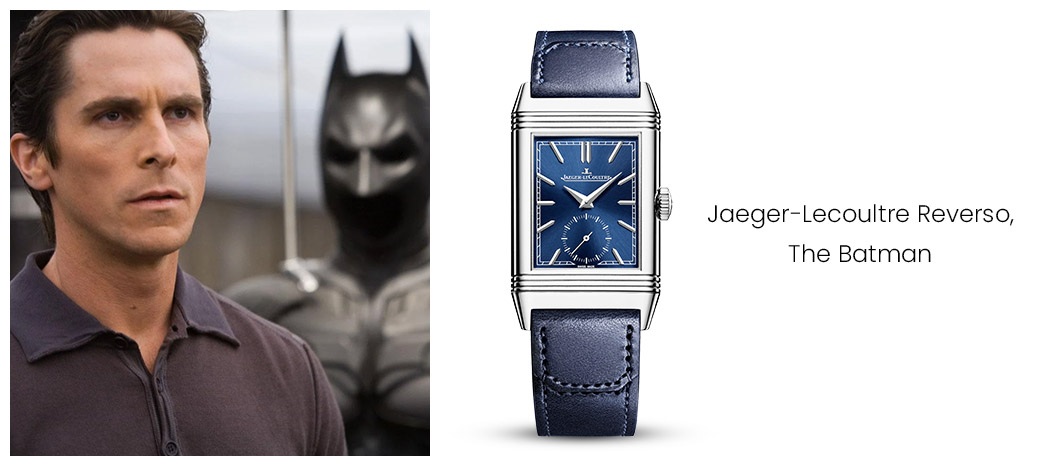 As a movie buff, I have to say that while James Bond is undeniably cool, there is one character who is even cooler: Batman. Personally, the most recent installment of the franchise, The Batman (2022), has become one of my favorite films of all time.
One of the most iconic watches in movie history is the Jaeger-Lecoultre Reverso, which appeared on the wrists of Bruce Wayne in Christopher Nolan's "The Dark Knight" trilogy. The watch is a stunning piece of craftsmanship and design, and it perfectly complements the character of Bruce Wayne. Fit for the "old money aesthetic," this is a watch that doesn't fail to impress.
Scarface (1983) – Omega La Magique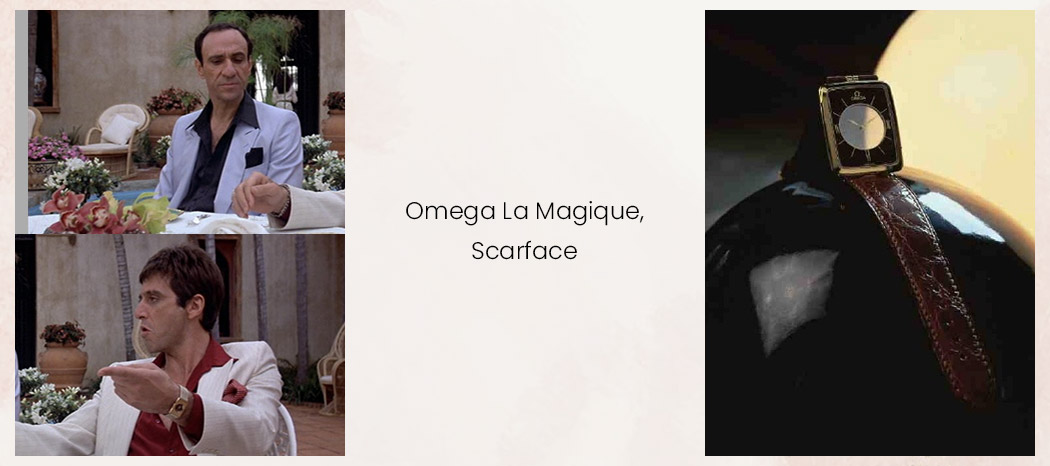 In "Scarface," the Omega La Magique is worn by Tony Montana, played by Al Pacino. Montana rises to power in the criminal underworld of Miami and is a man who gets out and gets what he wants.
A film featuring complex themes and with a momentous ending, Scarface featured the best of clothes, cars, and watches. Omega La Magique has a bold and distinctive design, with a gold-plated case and bracelet and a textured dial with Roman numerals. The watch is powered by a reliable quartz movement, which ensures accurate timekeeping and long-lasting durability. The watch is a symbol of Tony Montana's wealth and power, and it is a fitting accessory for the character as he develops through the film.
Apollo 13 (1995) – Omega Speedmaster Professional
We love the Speedmaster Professional's appearance in Apollo 13 because it plays an integral role in the plot of the film. When one of the primary equipment malfunctions, the crew relies on this iconic timepiece to ultimately save their lives. The Omega Speedmaster was a part of the most famous moment in all of watchmaking, when Buzz Aldrin wore it on man's first expedition on the moon. This is a watch that is a true testament to quality in Swiss watchmaking and one that turns heads.
The watches featured in this blog post serve as a reminder of the power of cinema to transport us to another world, where we can experience the thrill of adventure and the allure of luxury. And with each new film and television show that comes our way, we can be sure that there will be more iconic timepieces waiting to be discovered and admired by movie buffs and luxury enthusiasts alike.