When talking about luxury goods, there are certain names that come to mind at the drop of a hat. German cars, Italian suits, French jewellery, Swiss watches, and maybe even Japanese watches. Don't forget Seiko, never forget Seiko. After all, luxury watches have been, if not monumental, significantly prominent when it comes to building the Haute Couture industry from the ground up and Seiko has played quite the role if I'm being honest. As a whole, luxury goods have been constructive as well as strategic in terms of putting the fashion industry on the global map.
India and Its Obsession With Luxury Goods
When it comes to certain items, be it cars or watches, this becomes increasingly true. Human fascination with mechanical achievements is not a new story. As a race, we take pride in excelling in various fields and mechanics happens to be one. Take watchmaking, for instance. From age-old pocket watches to watches that could travel to the deepest of trenches to watches that made it to the moon, we have seen it all.
In this blog, however, we will try and focus on a subject that is much less talked, the history of India and its love of opulence. As a country, India has forever been the centre for cultural and scientific exploration. Not to mention the immense wealth of our once seemingly invincible maharajas and maharanis. It is not a revelation that Indian royalty was always tantalized and seduced by exotic items which include watches, jewellery, cars, clothing, and much more.
Even today, in 2021, India is one of the most thriving places for the luxury goods industry, and that says something.
A Look At The Numbers
The global valuation of the luxury goods industry is projected at USD 321,969 million for the year 2021. The market is expected to show a growth rate of 4.8 per cent per annum (CAGR 2021-2025). From a global scale, the maximum revenue will be generated by the United States at USD 71,999 million.
Looking specifically at the global valuation of luxury watches, the industry is projected to achieve a net worth of USD 28,044 million in 2021. The market is expected to grow at a rate of 3.7 per cent per annum (CAGR 2021-2025). The maximum revenue is set to be generated by China at USD 10,684 million.
When turning the radar towards India, the figures are just as impressive. The luxury goods industry in India is projected to achieve a net worth of USD 8,417 million in 2021 at a growth rate of 7.7 per cent annually (CAGR 2021-2025). The country's biggest competitor will be the United States projected to achieve a net worth of USD 71,999 million in 2021.
The watches industry in the country is projected to reach a net worth of USD 1,329 million in 2021 at a growth rate of 7.6 per cent per annum. China is the prime competitor here with a revenue projection of USD 14,682 million in 2021.
A rather specific analysis of the luxury segment of India's watches and jewellery industry projects the market's growth at USD 2,365 million. The industry is set to grow at a rate of 7.5 per cent annually (CAGR 2021-2025). India's biggest competitor here will be China with its luxury watch and jewellery industry projected to achieve a net worth of USD 17,666 million.
That being said, let's get back to the topic for today and take a walk down history lane to see if something surprises you.
A Tale of Indian Maharajas and Their Affair With Luxury Goods
Indian Maharajas are notoriously remembered for their wealth and their larger than life way of living. I am sure everyone still remembers the story of Jai Singh, the King of Alwar and his sweet revenge over Rolce Royce when the salesmen of the car manufacturer refused him the respect of a king. But not all stories are as dramatic. Most of them are, in fact, subtle and harmonious.
Maharaja Raghuraj Singh of Rewa and the Robe of Most Exalted Order of the Star of India
Here is Maharaja of the Kingdom of Rewa, Raghuraj Singh donning the robe of Most Exalted Order of the Star of India. This was an order of chivalry that was started by Her Majesty Queen Victoria in the year 1861. The royal order consisted of members primarily belonging to three classes, namely, the Knight Grand Commander, Knight Commander, and Companion.
Maharani Sunity Devi, Cooch Behar and her French Satin Gown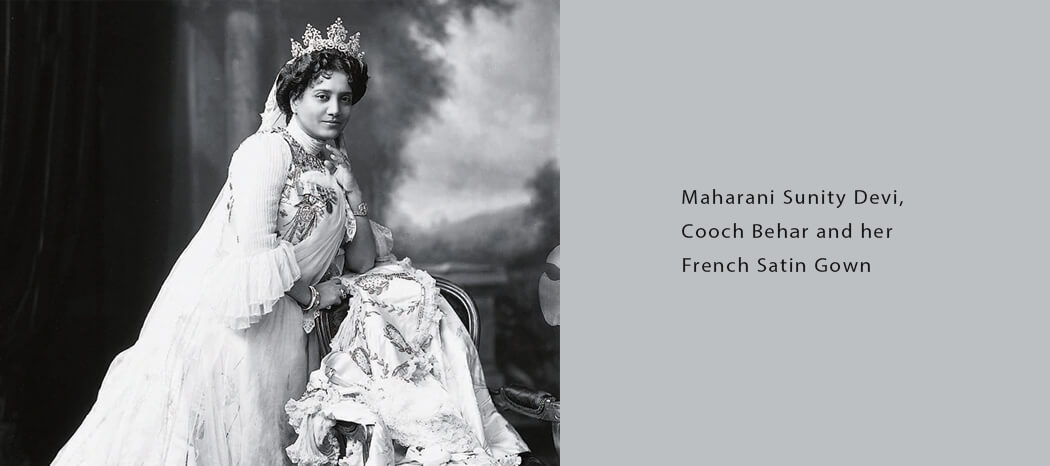 Here is Sunity Devi, the Maharani of Cooch Behar flaunting her French made white satin gown. She wore this gown to the coronation of King Edward VII. The gown of white satin displayed an 'Empire' wreath design which was embroidered in gold. This was worn at the Coronation ceremony of King Edward VII, the father of King George VI (father of the current Queen Elizabeth II).
Maharaja Bhupinder Singh, Patiala and His Collection of Minute Repeater Pocket Watches
Here is a small portion of Maharaja of Patiala Bhupinder Singh's collection of minute repeater pocket watches, along with a gold with enamel portrait of the Maharaja himself from the year 1920. Minute repeaters are today, one of the most novel watch complications. They are extremely hard to create and equally desirable among top luxury watch collectors.
Maharaja Bhupinder Singh, Patiala and his 30,000-Pound Silverware
The above picture depicts a 30,000 pounds' worth of dinner service made in silver gilt by the Goldsmiths and Silversmiths Company, England. This was particularly made for Maharaja Bhupinder Singh for hosting Edward, Prince of Wales, on his visit to Patiala in the year 1921. The Goldsmiths and Silversmiths Company was founded in 1880 by William Gibson and John Lawrence Langman. The company was a specialist in jewellery making, dealing in diamonds/precious stones, silversmithing, electroplating and watch/clock making.
Maharaja Jagatjit Singh, Kapurthala from Hellstern & Sons
The above picture shows a custom pair of velvet slippers with embroidery of metal thread. These were made for Maharaja Jagatjit Singh of Kapurthala by Hellstern & Sons in 1920.
Maharaja Man Singh II and Maharani Gayatri Devi, Jaipur and their Bentley Two-Door Saloon
In this list of overly luxurious items owned by the Indian royalty, it would not make sense if we were to leave out luxury cars, now will it? The above picture depicts Maharaja to the throne of Jaipur, Man Singh II and his wife, Maharani Gayatri Devi with their 1939 4.25-litre Bentley two-door Saloon.
Maharaja Umaid Singh, Jodhpur and his Gold and Ivory Colt Pistol
Last but not least, here is a custom made gold and ivory Colt pistol made for Maharaja Umaid Singh of Jodhpur in the year 1943. Maharaja Umaid Singh was the king to the throne of Jodhpur and succeeded his elder brother Maharaja Sir Sumair Singh after he died in 1918. He also served as the aide-de-camp to heir apparent Edward, Prince of Wales in 1922.
A Peek Inside India's Young Royalty That's Still Living The Good Life
Although talking about and reminiscing the past is always a good thing to do, we shall not forget to look up to the future. Indian royalty lost most of its status and power in the state's affairs after the implementation of the 26th Amendment of the Indian Constitution. In July of 1971, the 26th Amendment abolished Indian monarchy completely. However, few of the monarchs survived the test of time by adapting to changing eras. They successfully transformed their ancestral lands and castles into business opportunities. Let's have a look at how a few of the present-day Indian monarchs spend their uber luxurious lives. Try not to be jealous though.
Yaduveer Wadiyar
Ever heard of the Kingdom of Mysore? Of course, you have. It is one of the most popular kingdoms in Indian history. Yaduveer Krishnadatta Chamaraja Wadiyar is the present head of the Dynasty of Wadiyar that used to preside the Kingdom of Mysore. His uncle and the former king, Srikantadatta Wadiyar, died without an heir in 2013. Since there was no successor named as well, his wife, the queen adopted Yaduveer as her own son. This made him the king and led to his coronation at the age of 23 years old.
Mysore is one of the top names when it comes to silk production and the young king acknowledges that. The Royal family's brand, Royal Silk of Mysore started by the late king Srikantadatta has become a massive success story. The current king also has a degree in English Literature and Economics. Yaduveer got married to Trishika Kumari Singh, the Princess of Dungarpur and has a 2-year-old son. The Royal family has a net worth of approximately INR 10,000 crores.
HH Sawai Padmanabh Singh
Sawai Padmanabh might be the closest thing that could come to the literal definition of a prince. The young man is everything you might look for in a descendent of one of the most prolific royal families of India. At the mere age of 22 years old, Sawai Padmanabh Singh is the King of Jaipur. His coronation took place at the tender age of 13.
He automatically became the titular ruler of Jaipur after the late King Maharaja Bhawani Singh, his predecessor passed away. His Highness Bhawani Singh was, however, not his father. In the year 2002, the last titular Maharaja of Jaipur had adopted and nominated his daughter Diya Kumari's eldest son, Padmanabh, as the heir apparent.
The king is also a prolific Polo player who recently led a team of Indian Polo players at Hurlington Park, United Kingdom. He is also one of the few Indian Royals to be present on the Forbes 30 under 30 list. Quite impressive, if you ask me. When he is not on the field playing Polo, he is either traveling or throwing lavish parties that one would only imagine exist in Victorian era fairy tales.
Lakshya Raj Singh Mewar
For those who do not have the faintest of ideas who Lakshya Raj Singh Mewar is, he is the son of His Royal Highness Arvind Singh Mewar, the Head of the Mewar Dynasty and the present King of Udaipur. Now, Lakshya is not the youngest of the Indian princes, however, he is without a doubt one of the richest. Lakshya helps his father run the RH Group of Hotels, a company that has over ten hotels under its name.
Lakshya, along with the royal family, lives in the Udaipur city palace. A portion of this palace is open to the public to visit and explore. The enormity of the palace can be imagined by the fact that it spans across 5 acres of land. Another lesser-known fact is that the palace is built to look like a ship. As far as academia goes, Lakshya Raj's resume is quite a spectacle. The prince was schooled at the Mayo College in Ajmer and later at the Blue Mountains Hotel Management School in Australia. He received a degree in bachelor of commerce there. Later, he got first-hand experience in the hospitality industry. He worked his way up through various levels, including being a waiter and a barista. He later joined the Cornell-Nanyang Institute of Hospitality Management, Nanyang Technological University located in Singapore to study management.
He eventually returned to Udaipur to play his role in the family business of heritage hotels. His first task in hand was the revival of the Jagmandir Island Palace. He did a phenomenal job at transforming the property that was once in ruins to one of the planet's most popular luxury wedding destinations. For those still wondering, yes, this was the place where Isha Ambani wedded Anand Piramal.
All that being said, it is true that Indian royalty does not possess the grandeur and affluence it once did. Nonetheless, their tales of riches and their endearment for the Dolce Vita life will always be there in the pages of Indian history.